Contemporary Catholic Clothing and Accessories
Contemporary Crosses to Witness to your Faith - All are 1" on Black silk cord for $9.95 - Available in:
Dyed Turquoise Stone Cross


Dyed Lapis Stone Cross

Obsidian Stone Cross


White Shell Stone Cross

Hematite Stone Cross


Tiger's Eye Stone Cross

"What Would Jesus Do?" (WWJD?) Contemporary T-Shirts
A wonderful reminder for Teens. In black, Sizes M, L, XL - $16.95
Other Contemporary Catholic T-Shirts available: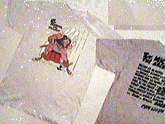 "St. Michael the Defender" (illustrated image of St.Michael on front, St. Michael Prayer on back) - Grey, sizes S - XL, $16.95

"My Angel Watches Over Me" - Angel Romper for baby, sizes 6 - 12 mo., $24.95
(Also Available, not pictured) "One Holy Catholic Apostolic Church" - forest green, sizes S - XL, $16.95
SAY A PRAYER WITH WHAT YOU WEAR! - Distinctive embroidered designs average over 12,000 stitches! Sewn over left chest area on high quality 100% cotton ultra-tees. Sizes L, XL, and XXL - $19.95; - Available in the following full color embroidered patterns:

"St. Michael Defend us in Battle!"

"Our Lady of Guadalupe"


"CATHOLIC and Proud!"

"Come Holy Spirit, Renew the Face of the Earth!"


Baseball cap w/ Miraculous Medal emblem (pictured above) - $17.95

BACK